CASE STUDY: How a pair of property investors topped the iTunes charts by sharing their passion
Categories: Case Studies, Podcasting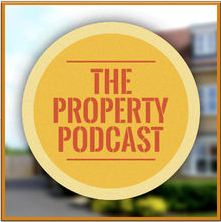 The Property Podcast is a weekly mix of property news and debate presented by Rob Bence who runs RMP Property and Rob Dix who runs Property Geek – both active property investors and podcast addicts who saw an opportunity to combine their passions.
Soon after its launch in March 2013, the podcast was manually selected for promotion on the iTunes podcast homepage, appeared in the 'New and Noteworthy' list, and regularly beat the BBC's own podcasts to rank #1 in the business category. By the end of its second month, it was achieving over 20,000 downloads per month.
The Robs deliberately selected a format that keeps episodes snappy and informal, while sharing valuable information in a medium that previously lacked any kind of property content. It balances entertainment and education, and incorporates plenty of listener interaction. They knew that reviews were important in determining their iTunes rankings, so they made a point of asking for reviews and reading them all out on the show – racking up 65 five-star reviews in their first three months.
The accompanying website, www.thepropertypodcast.com, includes transcripts (which help Google rankings), a call to join the show's mailing list, and a way for listeners to leave questions as voicemail messages.
Get the idea: Think about something you're passionate about which is currently poorly served – other people will be hungry for that information too. Decide on a format and a posting schedule, get some attractive artwork, and make the most of the first eight weeks when you're eligible for the 'New and Noteworthy' chart. Above all, never try to sell anything to your audience: interact with them, ask for reviews, and drive them back to your website to get more useful information. The trust they'll build up by spending half an hour a week in your company will generate sales leads without you even having to try.
This case study appears in chapter 7 of the new edition of Get Up to Speed with Online Marketing. Rob and Rob included the book as their 'resource of the week' in The Property Podcast, 07 Nov 13 (from 25.50). You can hear the episode on The Property Podcast website, by playing the embedded player below, or by subscribing on iTunes (well worth doing if you're at all interested in property investment!)