NEW EDITION NOW AVAILABLE – including thorough updates and coverage of Instagram, Pinterest and Google+.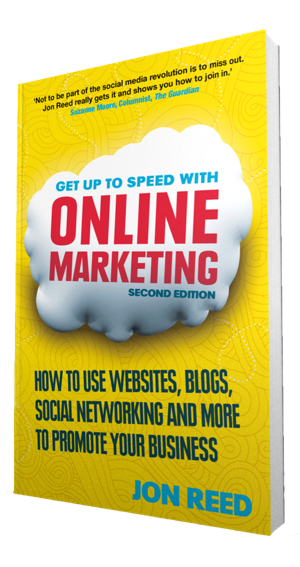 'If you only read one book on online marketing, I implore you to make sure that it is this one. If you implement the strategies and tips you pick up, you will have a winning recipe for success. I know this for a fact because I have done just that and it has worked for us.'
Claire Georghiades, Accounts Resource Ltd, Amazon review of new edition
'Not to be part of the social media revolution is to miss out. Jon Reed really gets it and shows you how to join in.' Suzanne Moore, Columnist, The Guardian
'Packed with practical, no-nonsense insight that allows you not only to keep up but to get ahead.'
Justin Cooke, CEO, POSSIBLE and Chair, British Interactive Media Association
Get Up to Speed with Online Marketing has helped thousands of people promote themselves and their businesses. It can help you too. Straightforward, easy to understand, and packed with case studies, it demonstrates simple, affordable and effective ways to:
DESIGN YOUR WEBSITE

– create a site and make sure your customers can find it

USE SOCIAL MEDIA TO YOUR ADVANTAGE

– reach your market on Facebook, Twitter, LinkedIn, Pinterest, Google+, Instagram and more

CREATE ENGAGING ONLINE CONTENT

– publish valuable, interesting and sharable content for your blog, podcast, and website

DEVELOP AN ONLINE MARKETING PLAN

– build your customised plan and measure your results.
Buy from Amazon.co.uk  Buy from Amazon.com
Sample Chapter
Read the Introduction and Chapter 1
Table of Contents
Acknowledgements
About the author
Preface to the second edition

Introduction – Social media is mainstream. Are you up to speed?
PART 1 – GET STRATEGIC
1. Online Marketing 101
2. Your Online Marketing Strategy
PART 2 – GET ONLINE
3. Establish a Web Presence – How to build a website with no technical knowledge
4. Boost your Search Engine Rankings – How to increase your visibility on Google
5. Engage with Email – How to build an email list without annoying people
PART 3 – GET CREATIVE
6. Build a Blog – How to build trust, reputation and traffic
7. Podcast for profit – How to attract an audience of loyal listeners
8. Lights, Camera, Action! – How to produce online video on a budget
9. Show, Don't Tell – How to showcase your business on photo sharing sites
PART 4 – GET OUT THERE
10. Build an Online Community – How to choose and use social networks
11. Find Fans on Facebook – How to harness the world's largest network
12. Develop Leads on LinkedIn – How to take your business networking online
13. Tap into Twitter – How to use the real-time web to build a following
14. Get on Google+ – How to add people to your circle of influence
15. Pique Interest with Pinterest – How to use the visual web to attract attention
PART 5 – GET HELP
16. Achieve More by Outsourcing – How to find someone to help you achieve your vision
An A-Z of Online Marketing
Index