Email Marketing and the Sales Funnel
Categories: Email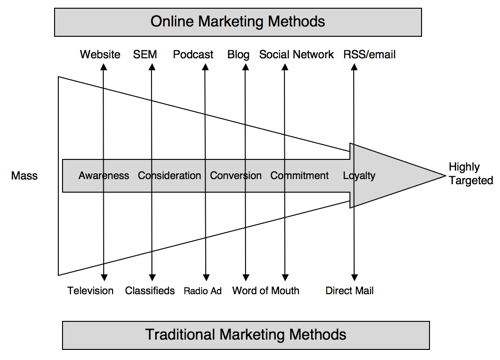 In Chapter 1 of Get Up to Speed with Online Marketing, we look at the concept of the sales funnel, and how traditional and online marketing methods loosely map on to the stages of awareness, consideration, conversion, commitment and loyalty. The traditional marketing method of direct mail and the online marketing method of email marketing are particularly useful at the commitment / loyalty end of the process – when someone has committed to buying from you, is using your products or services, and you want to retain them as a loyal, repeat customer. It is, after all, far easier to sell to a previous customer than to find a new one.
Email marketing can, in fact, be used at all stages of the process; you just need to vary the type of email, and who you send it to, depending on your primary aim:
Awareness. If you are a new business, or even if you are more established but new to email marketing, awareness-raising might be one aim of your campaign. If your brand is already established offline, make sure your brand image is reinforced online, on both your website and in the email template you use. Use email to communicate what your business can offer.
Consideration. Use email to communicate specific benefits of your product or service, along with special offers, discount codes or free trials.
Conversion. Use email to drive your customers to your sales channels, with clear calls to action such as a prominent 'buy now' button. A 'catalogue email' might be appropriate here. This is an electronic version of a print brochure. If you have a large stock inventory, you might want to list specific products in your marketing emails, such as latest products or more targeted emails based on what discrete segments of your list are interested in.
Commitment. Once your customer is using your products, show them what else you've got. Use email to communicate the benefits of related products that you can up-sell/cross-sell. This method is used very successfully by Amazon, whenever they send you a 'you bought that so you may be interested in this' email.
Loyalty. This is the stage where you want to keep your customer, and keep them informed of new products, services and offers. Often your email marketing campaign will be based around a regular – say, monthly – newsletter which is sent to your entire list. An email newsletter is a 'softer' way of selling. It can be a powerful way of keeping in touch with your client base without annoying them with constant sales messages. The purpose of an email newsletter is relationship building with previous, current and prospective clients. The focus is on providing useful information in their niche field of interest – a similar approach that you would adopt with a blog (see chapter 6). You might even include some extracts from latest blog posts with a 'read more…' link, in order to draw them onto your site. While the information is related to what you can offer, it is not a hard sell. It should, however, include a call to action.
It is possible to use a combination of these types of email by splitting your main list into, say, existing clients and prospective clients. This is easy to manage with email marketing services such as Mail Chimp or Campaign Monitor. Most services will keep a record of the 'join date' of subscribers – i.e. when they signed up to your list. You might use this information to send an email to newer members only. Many also allow you to send an 'autoresponder' message on sign-up, which you can use to send a message appropriate to an early stage of the sales funnel.
Find out more about email marketing in Chapter 5 of Get Up to Speed with Online Marketing.